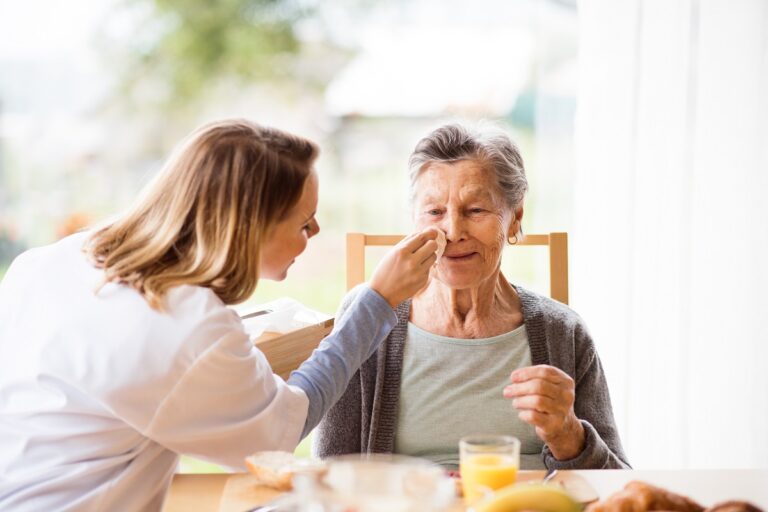 As our parents, grandparents, and loved ones age, it is important to keep in mind that they may not be able to care for themselves and complete the everyday tasks that might've been easier for them before. With the San Jose Health Care team by their side, families can rest assured that their loved ones are getting the care and attention they deserve, all in the comfort of their own home. 
Understandably, you'll want to know how our caregivers will be supporting your loved one, that's why we've put together this article to highlight exactly the role our caregivers will fulfill. 
The Role of Caregivers
1. Cooking and helping with feeding.
If your loved one has found it hard to cook meals on their own, our caregivers are here to help. At San Jose Health Care, we know that making sure your loved one gets nutritious meals is important to their health and well-being. 
Our caregivers can also help with feeding if extra help is needed. 
2. Doing laundry.
As our loved ones age, doing laundry can be a task that is often forgotten or too difficult to do. With our home health professionals assisting with care, you can be assured that laundry will be done so that there are always clean clothes, towels, bedding, and more. 
3. Setting up a bath.
With San Jose Health Care, our trained professionals will be there to set up a bath when clients are unable to do so on their own. 
4. Housekeeping duties. 
We know that when our patients aren't feeling very well, dealing with housekeeping duties is never ideal – and a clean home can be vital to one's health. Our team will make sure that all basic housekeeping is taken care of so that our elders can live in a hygienic and comfortable home. 
5. Help with transferring to bed or chair. 
If our patient needs us to transfer them from their bed or a chair, our caregivers will be there to do so. This movement can be essential for their health, as remaining in one place for too long can cause painful sores.  
Our team members will make sure that your loved one is comfortable during the process. 
6. Taking walks and exercise reminders.
If your loved one enjoys being outside and taking walks, you will be glad to know that our care providers will be able to accompany them on daily walks. Or if patients prefer, our caregivers can give them friendly exercise reminders.
7. Physical therapy help.
Our caregivers can help with any physical therapy routines if the patient requires assistance. It should be noted, however, that our caregivers are not certified physical therapists, so they may be limited in the support they are able to offer.
8. Help with dressing and basic grooming.
If you're worried about your loved one having trouble with getting ready in the morning, our caregivers are able to help with dressing and basic grooming needs.
9. Accompanying clients to medical appointments or other errands.
Our caregivers are also able to accompany your loved one to medical appointments or any errands that might need to be done during the day.
Put Your Trust in San Jose Health Care
If you are looking for care for someone in your life who could benefit from our services, don't wait, contact San Jose Health Care today!